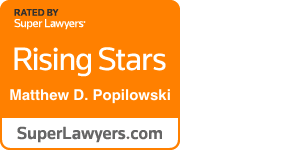 Matthew D. Popilowski is a partner in the law firm of Lynch, Traub, Keefe & Errante He was admitted to the Connecticut Bar in October 2008, and to the U.S. District Court, District of Connecticut, in 2012.
Matthew received his Juris Doctorate degree from Quinnipiac University School of Law and a Bachelor of Arts Degree in political science from Rider University. During law school, Matthew was recognized for his research and writing skills with two Distinguished Academic Achievement Awards and one Excellence in Legal Writing Award. His writing ability also earned him a position as an Associate Editor for the Quinnipiac Probate Law Journal.
Matthew took part in the Quinnipiac Defense Appellate Clinic through which he prepared and argued an appeal before the Connecticut Appellate Court. In State v. Joseph, 119 Conn. App. 339 (2009), Matthew convinced the Appellate Court to overturn his client's convictions on two felony counts. This decision represents the first reported Connecticut case where a court has held that reckless endangerment in the second degree is a lesser included offense of unlawful restraint in the first degree. Matthew returns at least once a year to speak to students enrolled in the Quinnipiac Defense Appellate Clinic. He also returns to help moot students in preparation for their appellate arguments.
Prior to joining Lynch, Traub, Keefe & Errante, Matthew worked for nearly three years as a Deputy Assistant Public Defender for the state of Connecticut. During this time, Matthew spent every day in the courtroom defending individuals who were otherwise unable to afford counsel. Matthew dedicated himself to aggressively protecting the rights of the hundreds of clients he represented.