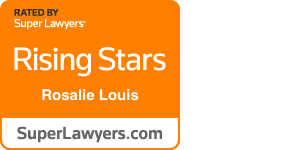 Rosalie D. Louis is a partner of the firm Lynch, Traub, Keefe & Errante. She was admitted to the Connecticut Bar in November 2013.
Rosalie holds a Juris Doctorate from Quinnipiac University School of Law. While at Quinnipiac, Rosalie held numerous leadership roles in student government, was the executive business editor of the Quinnipiac Health Law Journal and served on the faculty search committee. Rosalie received honors for distinguished academic achievement and outstanding legal research. Her legal research on the regulation of hydraulic fracturing was published in the Quinnipiac Health Law Journal.
Rosalie brings a range of prior experience in both the public and private sectors. She clerked for both the Connecticut Office of State Ethics and the Connecticut Department of Public Health, as well as for several private firms in the Hartford and New Haven areas. While in law school, Rosalie also worked with the Quinnipiac Civil Justice Clinic to reform Connecticut's criminal pardon legislation.
Rosalie is a dedicated advocate for those with mental disabilities and has volunteered with numerous organizations, including therapeutic equestrian centers. She is the co-creator of the autism awareness ribbon pin and was featured on the Today Show. The pin is now a nationally recognized symbol. During law school, Rosalie worked with the Quinnipiac Civil Justice Clinic to secure the rights of special needs students.
In her spare time, Rosalie enjoys road trips, camping and outdoor activities. She is a devoted fan of the Grateful Dead and greatly enjoys historical fiction.
Rosalie holds a bachelor's degree in economics from Sweet Briar College, and studied at St. Andrew's University in Scotland. She is the current president of the Sweet Briar College alumni class of 2010.