LTKE Law Supports Walter Camp Foundation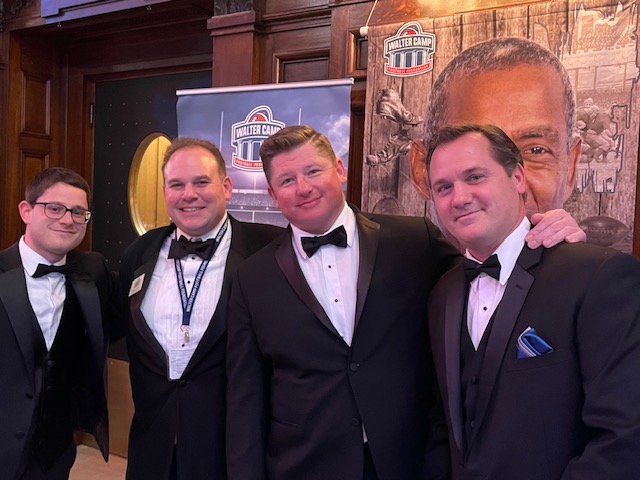 LTKE Law's Michael A. Leone, a former Trinity College football team captain and Bantam Defensive Tackle turned Insurance Defense Attorney, is proud to represent LTKE Law this year in its support of the Walter Camp Foundation. Leone has been a member of the Foundation since 2013 and currently sits on the Board of Governors.
Michael A. Leone and other LTKE Law Attorneys, Marisa A. Bellair, Rosalie A. Louis, Garrett A. Denniston, and Justin M. Ahearn, dressed up to attend the National Awards Gala, a Black-Tie event at the Schwarzman Center at Yale University.
"It really means a lot that LTKE is willing to step up to the plate and support an organization that means so much to me and also to the New Haven Community," said Leone.
The Walter Camp Foundation was founded in 1967 and is named after a Connecticut athlete credited as one of the first people to alter the English game of Rugby into what we now know as American Football. Its mission is to carry on the tradition of selecting a collegiate All-America Football Team, just like Walter Camp did for the first time in 1889.  2022 marks the 56th year of the Walter Camp Foundation and the 132nd Walter Camp All-American Team since Mr. Camp unknowingly started the tradition.  Not only does the Walter Camp Foundation carry on the tradition of celebrating young Connecticut athletes and creating the next All-American Football Team, but they also support many humanitarian programs and activities like visiting sick children in hospitals, donating to worthy charities and youth-focused organizations including, CT Food Bank, Yale New Haven Hospitals Toy Closet, Special Olympics, United Way, and more.
LTKE Law is proud to support The Walter Camp Foundation and keeping this long-lived New Haven Football tradition alive.