New Haven Motorcycle Accident Attorney
Motorcycles are an economical and enjoyable mode of transportation for many in Connecticut. But as enjoyable and economical as they may be, motorcycles have a huge downside. According to the National Highway Traffic Safety Administration, motorcycles are 15 times more likely to be involved in an accident than other motor vehicles. Furthermore, motorcyclists are almost 30 times more likely than the occupants of a passenger vehicle to die in a New Haven motor vehicle accident, and 5 times more likely to be injured. If you or a loved one was injured in a motorcycle accident in New Haven, hiring a professional personal injury attorney is the best course of action.
The Connecticut motorcycle accident attorneys at Lynch, Traub, Keefe & Errante may be able to get you compensation for your medical bills, lost wages, pain and suffering, property damage, and other accident-related expenses. We're happy to provide a free consultation and case evaluation.
New Haven Motorcycle Accident Resources
To immediately access the resources at any point on this page, please click the appropriate link below.
What Are Common Causes of Motorcycle Accidents?
What Are Common New Haven Motorcycle Accident Injuries?
Motorcycle Accident Statistics
Why is Motorcycle Riding so Dangerous?
Compensation for Connecticut Crash Injuries
Damages in Connecticut Motorcycle Accident Claims
How to Prove Liability in a Motorcycle Accident Case
Why Hire Lynch, Traub, Keefe & Errante?
Speak to a New Haven Motorcycle Accident Attorney Today
What Are Common Causes of Motorcycle Accidents?
Motorcycle accidents occur for many reasons. In some cases, poor weather, such as wind, sleet, and snow can contribute to a crash. In other cases, dangerous road conditions, such as potholes, loose gravel, or slick spots on the pavement can cause a motorcyclist to lose control of their bike. Also, wholly unforeseeable events, like an animal crossing the road, can be the primary cause of a motorcycle accident.
But, by far, the leading cause of New Haven motorcycle accidents is driver negligence or recklessness. This can be negligence on the part of the motorcyclist or another driver on the road.
Some common examples of driver negligence include:
Distracted driving;
Driving while intoxicated;
Speeding;
Failing to yield the right of way; and
Other traffic violations.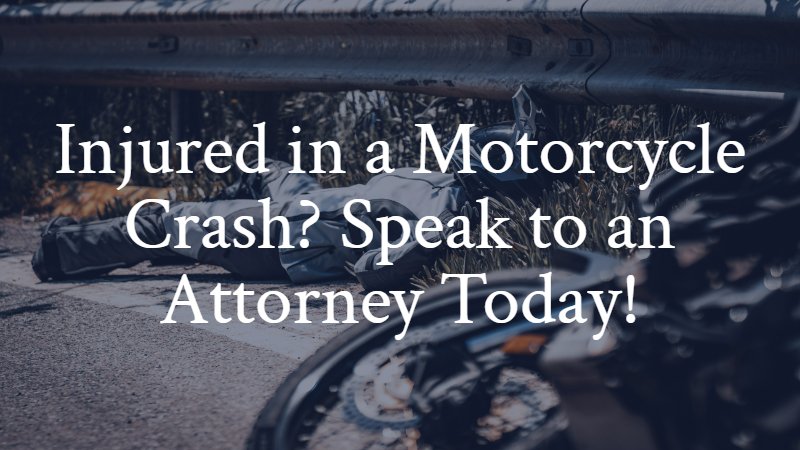 What Are Common New Haven Motorcycle Accident Injuries?
A motorcycle accident can result in many different types of injuries, the most common being:
Road rash;
Broken or fractured bones;
Head, neck, and back injuries;
Spinal cord injuries;
Internal Injuries;
Amputations;
Paralysis; and
Death
All motorcycle accident injuries require immediate medical attention, and many require surgery and ongoing treatment. The cost of this medical care can add up fast and become an insurmountable burden for you and your family. Our New Haven catastrophic injury attorneys work diligently to ensure you receive the compensation you need to cover your medical expenses.
Motorcycle Accident Statistics
Motorcycle accidents are unfortunately common in the United States. According to the National Safety Council, motorcycles accounted for 14% of all traffic fatalities in 2020—despite only making up 3% all registered vehicles in the country.  
Motorcyclist fatalities have also increased in recent years. Between 2019 and 2020 alone, fatal motorcycle accidents rose by 11%, and the injury rate for motorcyclists increased by 10%. 
These statistics are reflected at the state level as well. In Connecticut, 68 motorcyclists were killed in accidents in 2021. This is a significant increase from the average, which is 50 rider fatalities per year.
Why is Motorcycle Riding So Dangerous?
Motorcycle riding can be fun, but it is also very dangerous. In fact, the National Highway Traffic Safety Administration (NHTSA) states that motorcyclists are 29 times more likely to be killed in traffic than someone in a passenger car.
Motorcyclists lack the same protections as cars and can be susceptible to serious injuries during an accident. They're less visible to drivers and more vulnerable to road hazards like debris or potholes. Additionally, two-wheel motorcyclists are less stable than four-wheel vehicles and could easily topple over.
Compensation for Crash Injuries in Connecticut
By law, a motorcyclist has the same rights as any other driver on the road. Despite this, motorcycle accident victims have a much more difficult time recovering the compensation they are entitled to receive. This is because motorcyclists are depicted by insurance companies as risky and reckless drivers.
The truth, however, is that motorcyclists are less likely to be at fault for an accident than other drivers. Furthermore, whenever you are injured as a result of someone else's negligence, recklessness, or wrongdoing, you are entitled to pursue a claim against the at-fault party to recover compensation for your injuries and losses.
What an insurance company has to say is not the last word. An experienced New Haven motorcycle accident lawyer will have access to expert witnesses, such as accident reconstructionists, who can determine who is at fault for the accident and support your claim for compensation.
Damages in Connecticut Motorcycle Accident Claims
There are two types of compensation available in Connecticut motorcycle accident cases. Economic damages refer to the financial losses that you suffered due to your collision. Non-economic damages involve the pain and suffering that you experienced.
Depending on your individual losses, you could recover any of the following damages in your claim:
All past and future medical expenses related to your injuries

Wages that you lost while recovering from your accident

The loss of future earnings and benefits, if applicable

Property damage that you suffered in the collision

Chronic pain

Permanent disability

Disfigurement or scarring

Depression and anxiety

Emotional distress

Loss of quality of life

Post-traumatic stress disorder

Wrongful death damages, like funeral and burial expenses
How to Prove Liability in a Motorcycle Accident Case
To secure compensation in your New Haven motorcycle accident claim, you will need to prove the at-fault party's liability. In most cases, this means proving that a driver caused your accident and injuries. However, government agencies and manufacturers could also be liable for a motorcycle accident.
Generally, you will need to prove the following four facts to win your case:
The at-fault party owed you a duty of care, such as a duty to follow traffic laws.

The at-fault party breached his or her duty of care through negligence. This may involve running a red light or driving while drunk.

The at-fault party's actions caused your accident and the injuries that you experienced.

You suffered damages that you can claim in your lawsuit.
You can leverage several pieces of evidence to prove liability. Witness testimony, surveillance footage, and documents like the police report and medical records can go a long way in proving your right to recovery. Photographs and videos from the accident scene are also extremely helpful. Your attorney from Lynch, Traub, Keefe & Errante can help you collect all relevant evidence and craft a compelling case in your favor.
Why Hire a Personal Injury Attorney From Lynch, Traub, Keefe & Errante?
Our law firm has been successful in obtaining verdicts and settlements on behalf of hundreds of motorcycle accident victims throughout the state of Connecticut, and our attorneys are ready to fight to get you the recovery you deserve.
Our expert Connecticut motorcycle accident lawyers are familiar with the complex issues that can come up in a motorcycle accident claim, and we have the necessary skill and experience to fight the liable insurance company's tactics.
We are confident in our ability to obtain the fair compensation to which you are entitled, and will work to ensure that the party(s) whose negligence caused or contributed to your motorcycle accident will be held fully accountable.
Contact Our New Haven Motorcycle Accident Attorneys
If you or a loved one has been injured in a motorcycle accident in Connecticut, you don't have to fight for the compensation you are entitled to alone. For assistance with filing a motorcycle accident claim in Connecticut, contact Lynch, Traub, Keefe & Errante for a free case evaluation.
Call us today at 203-800-7343, toll-free at 888-692-7403, or fill out our online contact form. Let our team of Connecticut personal injury lawyers fight for you.