New Haven Pedestrian Accident Attorneys
The threat of serious injury to pedestrians increases more and more each day. With more motor vehicles on the road than ever before, A New Haven pedestrian accident is far more likely to occur, especially when the driver of a motor vehicle is momentarily distracted or intoxicated.
This is exactly why the state has created laws to protect pedestrians and enable them to seek compensation for injuries caused by negligent and reckless drivers. If you or a loved one has been involved in an injury-causing incident, you need to contact an experienced New Haven pedestrian accident attorney at Lynch, Traub, Keefe & Errante.
New Haven Pedestrian Accident Resources
To immediately access any section of this webpage, please click the corresponding link below.
Why Choose Our Legal Team?
How Pedestrian Accidents Happen
Pedestrian Accidents & Crosswalk Violations
Common Pedestrian Accident Injuries
Legal Options for Injured New Haven Pedestrians
What Compensation is Available in a Pedestrian Accident Claim?
What to Do if You're Hurt as a Pedestrian
How Long Do You Have to File a Claim?
Why You Need a New Haven Pedestrian Accident Lawyer
Speak to an Attorney Today
Why Lynch, Traub, Keefe & Errante, Connecticut Pedestrian Accident Lawyers
At Lynch, Traub, Keefe & Errante, we have represented injury victims and their families throughout Connecticut for more than 60 years. Our New Haven personal injury law firm has been named one of the top-ranked law firms in the United States, and we are renowned for our exemplary service and outstanding reputation. If you or someone you care about has been struck by a vehicle, our attorneys can help you obtain the compensation you need to cover any damages you may have incurred. We charge you no fees until and unless we obtain a settlement or judgment on your behalf.
How Pedestrian Accidents Happen in Connecticut
Both pedestrians and drivers have a responsibility to obey the rules of the road. Pedestrians have a responsibility to look out for themselves and to cross at marked crosswalks or intersections. Drivers, on the other hand, have a responsibility to drive safely and cautiously and to look out for the safety of pedestrians on the road.
When either party fails to obey the rules of the road, the result is often serious injury or death, especially for the pedestrian. Common causes of a New Haven pedestrian accident include:
Distracted driving;
Driving while intoxicated;
Speeding;
Failure to yield the right of way; and
Crosswalk violations
Even if a driver has the right of way, they still have a duty to drive safely and to look out for the safety of pedestrians on the roadway.
So, when a driver hits a pedestrian while speeding, going around a blind curve, passing through an intersection, or traveling in an area where pedestrians are known to be present, the motorist cannot defend him or herself simply by claiming that they had the right of way.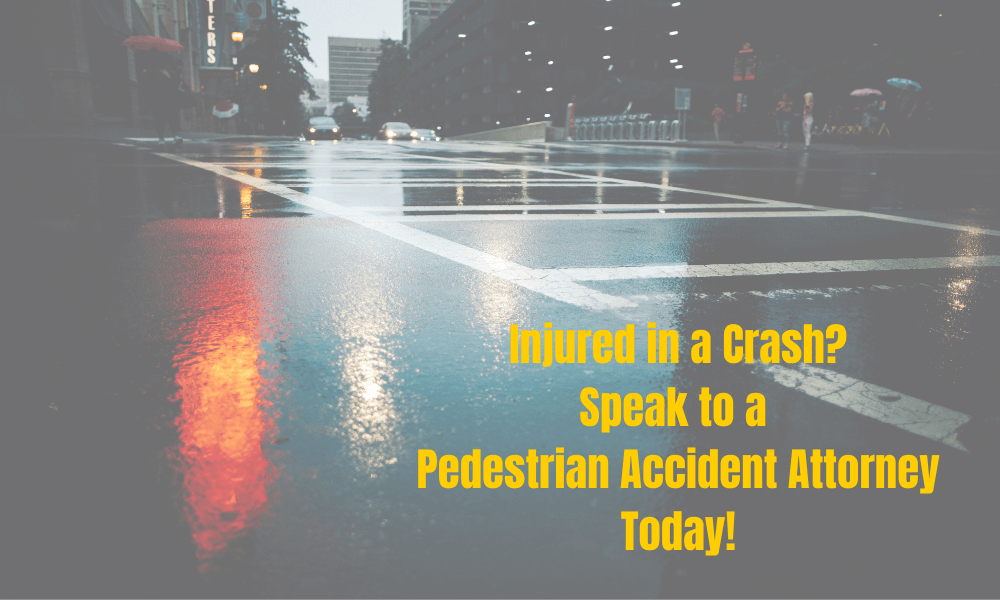 Pedestrian Accidents & Crosswalk Violations
Most drivers have no idea that the law typically views each intersection as having four crosswalks, even if they are not marked. Yet, a pedestrian's right of way is the same whether the lines are painted on the street or not.
One of the most dangerous and common crosswalk violations is when a driver passes another vehicle that has stopped at an uncontrolled and unmarked crosswalk. In these cases, the stopped vehicle often prevents the passing vehicle from seeing a pedestrian in the crosswalk.
Likewise, the crossing pedestrian can't see around the stopped vehicle to notice the passing vehicle. This situation is extremely dangerous, and the consequences can be devastating, especially for the pedestrian involved. Our New Haven catastrophic injury attorneys have represented victims of crosswalk accidents, fighting to ensure they receive fair compensation for their experience.
What Are Some Common Pedestrian Accident Injuries?
Pedestrians are vulnerable to serious harm during a collision. Motor vehicles are much larger and heavier than the average person. As a result, an accident between the two can lead to severe injuries, such as the following.
Cuts and lacerations

Broken bones and fractures

Facial fractures and disfigurement

Severe abrasions and road rash

Internal organ damage

Amputated or mangled limbs
Legal Options for Injured New Haven Pedestrians
In Connecticut, motor vehicle drivers have a duty to follow traffic laws and operate their vehicles safely. Unfortunately, not all of these motorists uphold these responsibilities—leading to pedestrian collisions.
If you are injured by a negligent driver while walking in New Haven, you deserve justice. Connecticut is a fault insurance state that requires at-fault drivers to pay for any damages that result due to accidents that they cause. 
In these situations, you have the right to pursue a claim against the driver and recover a settlement to pay for medical care, lost wages, and more. There are three pathways that you could take to obtain this compensation.
You could file a claim against the at-fault driver's liability insurance policy. 

You could file a personal injury lawsuit against the driver or other liable party in Connecticut civil court.

You could file a claim under your own insurance policy, as long as you have the appropriate coverage.
Many Connecticut pedestrian accident claims begin at the insurance stage before progressing to a lawsuit if necessary. However, your case may differ. Consult with a New Haven pedestrian accident lawyer from Lynch, Traub, Keefe & Errante to identify your optimal path to compensation.
What Compensation Is Available in a Pedestrian Accident Claim?
In a pedestrian accident claim, you can recover two categories of damages: economic and non-economic. Economic damages refer to the tangible financial losses that you sustained as a result of the collision. On the other hand, non-economic damages involve the intangible pain and suffering that you experienced.
Below are a few examples of damages available in pedestrian accident claims.
Repairs and replacements for any property damage that you sustained in the accident

Past and future medical expenses, such as hospitalization costs, surgical procedures, prescription medications, and follow-up visits

Lost wages while you are recovering from your injury, as well as loss of future earnings if you are unable to return to work

Disability accommodations, such as home and vehicle modifications, mobility equipment, and the cost of live-in care

Specialized therapies and treatments that you may require due to your injury, such as rehabilitation and psychological counseling

Physical pain and suffering, including chronic pain, permanent disability, and disfigurement or scarring

Emotional pain and suffering, which may include mental anguish, fear, anger, depression, anxiety, and post-traumatic stress disorder
What to Do If You Are Injured as a Pedestrian
If you are hit by a vehicle while walking, it is easy to feel scared and overwhelmed. The aftermath of a pedestrian accident can be confusing, and you may wonder what to do next. In these moments, it is important to protect yourself and preserve evidence for your case.
Take the following steps after a pedestrian accident to stay safe and seek help.
Call 911:

First, call 911 to bring law enforcement and emergency medical services to the accident scene. Report the collision to the responding officer and collect his or her information so that you can find the police report at a later time. 

Seek Medical Care:

Next, seek medical attention as soon as you possibly can, even if you do not feel injured. Save all records related to your treatment and the injuries that you sustained. Do not wait to go to the hospital; doing so could jeopardize your health and your future case.

Collect Evidence:

If you can move around the accident scene without putting yourself at risk, try to collect as much evidence as you can. Take photographs and videos of your injuries; the vehicle that hit you; any traffic signs, debris, or skid marks; and the area around the accident.

Exchange Information:

Collect the driver's contact, insurance, and license information and provide him or her with your details as well. Keep your interaction short and do not make any statements about the accident or your injuries. If any witnesses saw the collision, ask for their contact information as well.

Contact an Attorney:

Finally, speak to an attorney at Lynch, Traub, Keefe & Errante as soon as possible. Do not speak with any insurance representatives or the at-fault driver until you speak to your lawyer. Your attorney will carefully evaluate your case and help you plan your next steps.
How Long Do You Have to File a Pedestrian Accident Claim?
After a pedestrian accident, it is important to act quickly. Connecticut imposes a statute of limitations on filing personal injury lawsuits. This law sets a deadline for filing a lawsuit; if you file after this deadline passes, the court will dismiss your case. 
You have two years from the date of your accident to file your claim. There are some exceptions to this rule, but they are not common in pedestrian injury cases. Speak to a lawyer to identify your appropriate deadline and protect your right to a settlement. 
Why Do You Need a Pedestrian Accident Lawyer?
A pedestrian accident can be a very scary and overwhelming event. After a recent injury, it can be difficult to focus on anything other than your recovery. Pursuing compensation following your accident can feel like a momentous task.
In these situations, you need an attorney on your side who can protect your rights and represent your best interests. A New Haven pedestrian accident lawyer from Lynch, Traub, Keefe & Errante can provide several benefits to your case, such as the following. 
Access to resources to support your case, such as expert witnesses who can testify on your behalf

Experience negotiating with insurance companies and defense attorneys, enabling him or her to advocate aggressively on your behalf

The ability to calculate the full extent of your damages and accurately estimate your potential settlement

Experience handling pedestrian accident lawsuits in civil court and the ability to craft a compelling case for the courtroom

Knowledge of the pedestrian accident claims process and the ability to guide you through each stage of litigation

The ability to handle each aspect of your case so that you can focus on recovery rather than complex litigation
Let Us Help You Recover Compensation for Pedestrian Accident Injuries in New Haven
When a motor vehicle strikes a pedestrian, the result is often serious injury or death. The costs associated with typical pedestrian accident injuries, such as head trauma, spinal cord injuries, and paralysis can be significant. But, even if a pedestrian shares some fault for the accident, he or she may still be able to recover some compensation for their injuries.
If you were hit by a car in Connecticut, an experienced personal injury lawyer can help you recover compensation for the costs associated with surgery, hospitalization, physical therapy, medical equipment, in-home nursing care, pain and suffering, lost wages and income, and more.
To take action against the negligent or reckless driver who injured you in a Connecticut pedestrian accident, call Lynch, Traub, Keefe & Errante at 203-800-7343, toll-free at 888-692-7403, or fill out our online contact form to arrange a free consultation with an experienced New Haven pedestrian accident lawyer. We can help you get the settlement you deserve for your pedestrian accident injuries.