New Haven Uber Accident Attorneys
App-based transportation services such as Uber and Lyft allow people to order rides using their cellphones. Many consumers swear by these services, while others have concerns about their safety and legality. While the debate continues, Uber and Lyft vehicles have become a fixture on roads throughout Connecticut and the United States. With great numbers of these cars on the road also comes an increase in accidents involving ride-sharing vehicles. Whether they are caused by an inexperienced driver, distraction from an onboard navigation system, or the negligence of another motorist, a New Haven Uber or Lyft accident presents unique challenges for victims.
When you are injured in an Uber or Lyft accident, the lawyers of Lynch, Traub, Keefe & Errante, will take immediate steps to help you recover the full compensation you deserve.
We also serve victims of accidents involving other public transit vehicles, including buses, commuter trains, taxis and limousines. Contact us for a free initial consultation to discuss your case.
Why Choose Us for Your Uber Accident Claim
Our law firm has a strong track record of successful settlements and jury verdicts. We have recovered

millions of dollars

for our clients, and we will fight tirelessly to secure the compensation that you deserve.

Navigating an Uber accident claim can be complex, especially after a recent injury. Our attorneys will handle all aspects of your claim on your behalf and guide you through each stage of the process.

We are one of the top-ranked law firms in the United States. Our rideshare accident attorneys have been repeatedly listed in the publication The Best Lawyers in America and have received AV Preeminent peer ratings from Martindale-Hubbell.
Does Uber Provide Insurance Coverage for Rideshare Drivers?
Uber does provide liability coverage for its contracted drivers. These policies typically pay for any accidents that the driver causes. However, coverage will depend on the status of the driver at the time of the collision.
Period 0:

If the driver is not logged into the Uber app when the accident occurs, Uber will not provide any coverage for the collision. In this situation, you may have to pursue a claim against the driver's private insurance.

Period 1:

If the driver is logged into the Uber app but has not accepted a ride, the company will provide a certain amount of liability coverage. This insurance provides up to $50,000 per person injured in the accident and $100,000 in total bodily injury liability. The coverage also includes up to $25,000 in property damage liability.  

Period 2:

If the driver has accepted a ride and is on the way to pick up a passenger when the accident occurs, this coverage increases. Uber will provide up to $1 million in liability coverage.

Period 3:

Uber will also provide liability coverage of up to $1 million if the accident occurs while the passenger is inside of the vehicle. The company will also provide limited coverage for damage to the driver's vehicle, as well as uninsured motorist insurance. This coverage will end when the passenger is dropped off.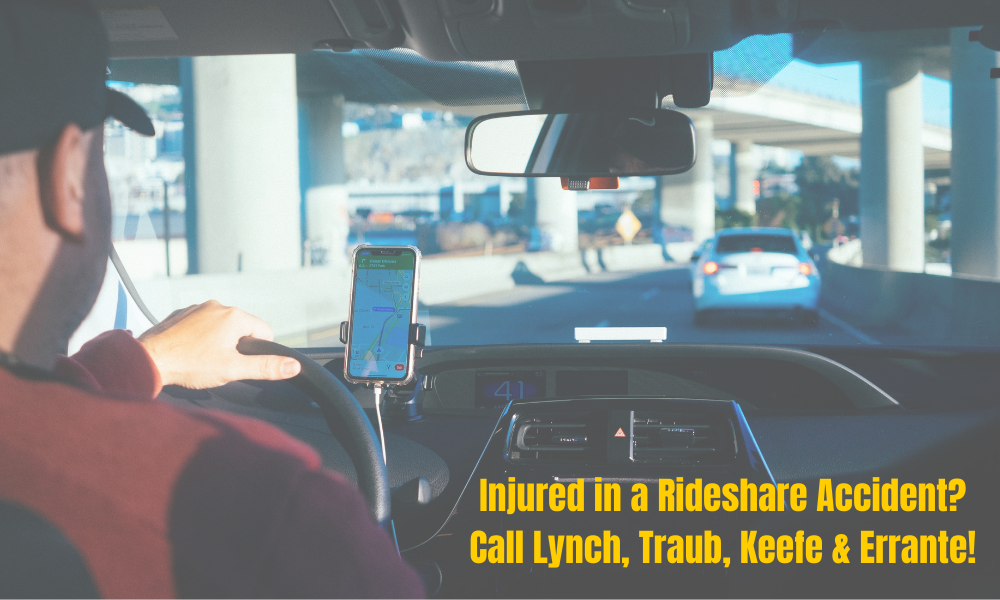 Who Is Liable: The Driver Or Uber?
When you ride in an Uber vehicle, you are covered by the driver's insurance policy. You also have coverage through Uber's commercial insurance that pays a maximum of $1 million for damages in a single accident. The driver's insurance would pay first, and then any damages exceeding the driver's insurance should be paid by Uber. Lyft offers similar commercial coverage, but with a maximum of $100,000 per accident.
However, when you have been injured in a rideshare accident, things may not be as clear-cut as described above. For instance, if the driver who injured you was driving recklessly, then the rideshare company may attempt to deny your claim.
Also, if the New Haven Uber or Lyft accident involved a pedestrian who was injured as a result of the driver's recklessness, then the driver's personal auto insurance policy may have to cover the pedestrian's injury claim.
Furthermore, the majority of personal auto insurance policies exclude coverage if the driver was using the vehicle for business at the time that the accident occurred. This is why you should make sure that the driver's app is turned on when you enter their vehicle.
It usually takes an experienced New Haven personal injury attorney to document your damages and hold the insurance company responsible for everything you have lost. Our law firm can try your case if necessary to obtain the full compensation you deserve. Several of our attorneys are board-certified by the National Board of Trial Advocacy.
Rideshare Accident Liability
When you request an Uber or Lyft, the last thing you expect is to be involved in a rideshare accident. However, with the ever-growing popularity of these services, it is more and more common for rideshare accidents to occur, and if you use rideshare services frequently, this should concern you.
As with any other car accident, the first step in determining liability for your injuries is to determine who is legally at fault for the accident. To prove that a rideshare driver is at fault, you will need to prove the following three facts:
The driver owed you a duty of reasonable care – all motorists have a duty to drive with care. This means obeying all the rules of the road. Someone who speeds or texts while driving is not obeying the rules of the road;
The driver breached that duty of care – the driver did not drive with care or did not obey the rules of the road. In other words, they drove negligently and, as a result, you were injured; and
The driver's breach of duty of care was the proximate cause of your injuries – the accident caused by the driver directly resulted in you sustaining injuries and damages (e.g. a broken leg, medical bills, time off from work, etc.)
If you can prove these three things, you have a good chance of recovering compensation for:
Medical bills – reasonable medical expenses needed to treat your injuries (e.g. hospital bills, ambulance, and surgeries);
Pain and suffering – the more severe your injuries, the more compensation for pain and suffering you might receive;
Lost wages – if your rideshare accident injuries caused you to miss work, you can recover compensation for lost wages and income; and
More
Can I File a Lawsuit Against Uber for My Accident?
As the victim of a rideshare accident, you deserve justice, and you may explore all potential avenues for seeking it. If you are injured in an Uber accident, you may wonder if you could file a lawsuit against the rideshare company directly. 
In most cases, unfortunately, the answer is no. Under the theory of vicarious liability, Uber would only be liable for the actions of its employees. Because Uber's drivers are usually independent contractors and not employees of the company, it is not liable for the accidents that they may cause on the job. 
However, this legal area is quickly evolving. New laws and regulations are being introduced that have the potential to change how rideshare companies classify their drivers. In the future, it may be possible to hold Uber liable for passenger injuries. 
In these situations, it is important to consult with a New Haven Uber accident attorney from Lynch, Traub, Keefe & Errante. Our attorneys can leverage their legal knowledge to carefully evaluate your case and identify your optimal path to compensation.
Why Hire A New Haven Uber Accident Attorney?
Determining liability for a rideshare accident can be a complex process, especially when there are multiple parties or insurance companies involved. Also, insurance companies have lawyers whose jobs are to ensure that the company pays out as little as possible for accident claims.
Furthermore, it is important to remember that you only have two years from the date of your injuries to file an accident claim. Fail to do so within this time frame, and you may never be able to recover compensation for your injuries and losses.
For these reason, you will need to hire a New Haven car accident attorney who has experience handling rideshare accident cases and can ensure that you maximize your recovery.
Contact An Attorney For An Uber Accident in New Haven
Insurance companies do not pay large damage claims willingly. In fact, most will do everything they can to avoid paying these claims in full. If a representative from another party's insurance company tries to contact you, keep in mind that he or she is likely looking for any reason to deny or delay your claim. Do not speak to an insurance company without consulting an attorney first.
At Lynch, Traub, Keefe & Errante, in New Haven, our attorneys have decades of experience dealing with complex insurance issues in car accidents. When you are trying to protect your interests and recover your health after a car accident, we can help. To schedule a free initial consultation, call 203-800-7343, toll free at 888-692-7403 or contact us online. We collect attorneys' fees only if we recover compensation for you.