New Haven Car Accident Attorney
In most New Haven car accident cases, one moving vehicle collides with another moving vehicle or a stationary object, such as a tree or lamp post, resulting in a forceful impact. The collision usually causes the occupants in the vehicle to come to a full stop in an instant.
The most severe crash injuries require immediate surgery, as well as ongoing care. Some car accident injuries can take years to recover from, and others can render you permanently disabled.
It is, therefore, imperative that if you have been injured in a crash, you hire a New Haven car accident attorney who can help you hold the at-fault party responsible to compensate you for your medical bills, lost income, property damage, pain and suffering, and other losses. At Lynch, Traub, Keefe & Errante, we will make sure that you receive the compensation you need and deserve.
Why Choose Us for Your New Haven Car Accident Claim
Our law firm has been recognized as one of the top-ranked law firms in the United States. In fact, several of our lawyers have been listed in the publication The Best Lawyers in America.

For years, our New Haven car accident attorneys have advocated for the rights of car accident victims. We will leverage our knowledge, extensive experience, and strong litigation skills to secure the compensation that you deserve.

We balance the resources and power of a large firm with the dedication and personalized attention of a smaller firm. We can take on the most complex car accident cases, and we will always be available to provide the support you need. 
Connecticut Car Accident Statistics
Motor vehicle accidents are unfortunately common. To make it simpler to visualize this information, the University of Connecticut's Connecticut Crash Data Repository provides access to crash data reported by state and local police departments. 
According to the repository, a total of 90,568 car accidents occurred in Connecticut during 2021. These collisions involved a total of 218,603 people. Additionally, 67,160 people were involved in a crash that resulted in an injury. 
Out of these victims, 3,636 people were involved in accidents that resulted in a suspected serious injury. 811 people were involved in a fatal crash in 2021.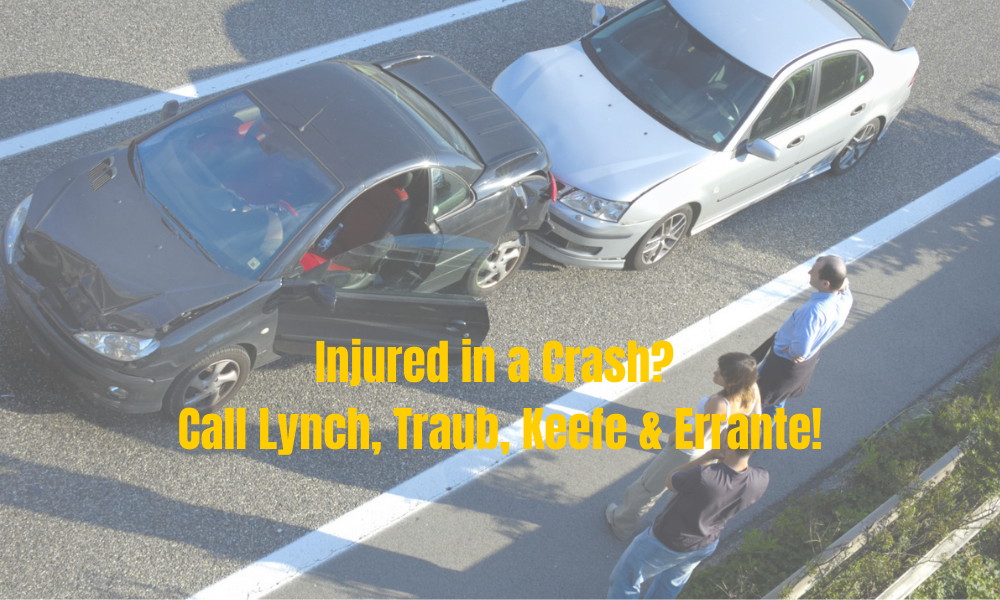 Car Insurance Requirements for Connecticut Drivers
Like most states, Connecticut follows a fault-based standard when it comes to car accidents. If a driver causes a collision, he or she must pay for any injuries, vehicle damage, and other losses suffered by the victims. 
To uphold this financial responsibility, Connecticut requires all motorists to carry liability insurance. Under state law, drivers must purchase the following minimum amounts of coverage.
$25,000 in bodily injury liability per person injured in an accident caused by the policyholder

$50,000 in total bodily injury liability for all people injured in an accident caused by the policyholder

$25,000 for property damage sustained in an accident caused by the policyholder
If you are the victim of a New Haven car accident, you have the right to pursue an insurance claim against the driver. You could also file a personal injury lawsuit against him or her in civil court. The auto accident attorneys at Lynch, Traub, Keefe & Errante can help you identify your optimal path to maximum compensation.
Common Types of Car Accident Injuries
There are many types of injuries that can occur in a car accident, such as the following.
Broken bones

Soft tissue injuries

Whiplash

Herniated discs

Traumatic brain injuries

Cuts and bruises

Internal organ damage

Spinal cord damage, such as paralysis
Any type of car accident can lead to an injury. Many people suffer from superficial cuts or bruises that heal with proper first aid intervention. However, others can suffer from painful and potentially life-threatening damage. In many cases, these injuries do not show symptoms until a few hours or days following the crash.
If you are injured in a car accident, it is critical to seek medical care as soon as possible, even if you do not feel hurt. Your doctor can evaluate and treat your injuries quickly, helping minimize potential complications. 
How Much Is My Car Accident Claim Worth?
With medical bills and lost wages adding up after being injured in a car accident, you need money to provide for yourself and your family without going into debt. It is, therefore, common to wonder how much compensation you may be able to recover by filing a car accident claim against the party responsible for the accident.
There is no set amount of compensation for a car accident claim. Instead, you and your New Haven personal injury attorney must go over all of the injuries caused to you by the at-fault driver in order to determine what a fair and just settlement amount would be.
Some of the factors that must be taken into consideration include:
The extent of your injuries;
Whether you did anything to contribute to the accident;
The settlement amounts for similar cases;
The length of time you will be unable to work; and
Whether you will require ongoing medical treatment, support, rehabilitation, etc.
Each of these factors and others can be difficult to determine on your own, though our car accident FAQ is a good place to begin. Your attorney will use the help of legal resources and expert witnesses to determine how much compensation you require and to find factual information to support your claim.
What if I Am Partially at Fault for My Car Accident?
A frequent question that we get from our clients is whether they can recover compensation for a car accident if they are partially at fault for causing the accident. In short, the answer to this question is yes.
Connecticut follows what is known as 'modified' Comparative Negligence, also known as the 51% Rule. What that means is that if an injured party is found to be 50% at fault or less for the accident in which they were injured, they are entitled to recover their awarded damages, but at an amount reduced by their percentage of fault. But, if the injured party is found to be 51% or more at fault, they will be barred from recovering any damages at all.
For example, if you win an award of $100,000 in a car accident case, but you are also found to be 40% at fault for the accident, your award of $100,000 will be reduced by 40%, entitling you to recover only $60,000 in damages.
If in the event you are found to be 51% or more at fault for the accident, you would not be entitled to recover any of the $100,000 in damages that were awarded to you. Comparative negligence is another reason why it is important to work with a New Haven car accident attorney who can ensure that fault for your car accident is properly assessed.
At Lynch, Traub, Keefe & Errante, we will investigate your car accident to prove who is responsible. We will then take that proof to the liable insurance company, or to a judge and jury, to help you recover the fair compensation you deserve.
The Statute of Limitations for Car Accident Lawsuits in Connecticut
If you have been in a car accident in New Haven before, you may already know that you need to file a car accident lawsuit before the statute of limitations expires. The statute of limitations is the amount of time the law gives you to file a lawsuit to recover damages after being injured in a car accident.
In Connecticut, you have up to two years after a car accident to file a lawsuit against the at-fault party. The statute of limitations is in place to protect the parties involved from losing valuable evidence needed to prove their case as time goes by.
If you fail to file a lawsuit to recover damages resulting from your car accident before the statute of limitations expires, you may be forever barred from seeking the compensation you deserve for your injuries and losses.
What to Do After a Car Accident in Connecticut
If you or a loved one is involved in a New Haven car accident, here are a few things you should do to support a future car accident claim, and to help your attorney and the insurance adjuster assign fault as accurately as possible:
Seek medical attention
Seek medical attention, even if you feel fine and don't have any visible injuries. You may find that you have injuries that you are not aware of, but that require immediate medical attention. Only a licensed physician can verify that you were indeed injured and the extent of your injuries.
Call 911
It is important to call 911 to get an emergency response for any injured parties, and to get the police to come and make an accident report. The police report represents an impartial third party's view of what happened in the accident. The best way to prove that you were not at fault for the accident is to present a police report indicating that you weren't.
Take pictures
If possible, take pictures of the damage to all vehicles involved, the accident scene, and your injuries. The more photos, the better.
Collect names and contact information
Collect the names and contact information of everyone involved in the accident, including any passengers in the other vehicle. Also, identify any witnesses to the accident and collect their contact information.
Don't give a statement
Refrain from giving any statement to any insurance adjuster until you have first consulted with an experienced Connecticut car accident lawyer. Most importantly, do not admit to any fault. The cause of most car accidents is complex. So, it's in your best interest to let the insurance adjusters examine all the information and evidence before assigning fault to anyone.
Consult with a car accident lawyer
Consult with an experienced car accident lawyer as soon as possible after the automobile accident. The sooner you get a qualified attorney involved, the better chance you have of recovering the compensation you deserve.
Why You Need to Hire an Experienced New Haven Car Accident Lawyer
As you begin to put your life back together after a devastating car accident, you must understand that the liable insurance company is not concerned with your best interest. Their primary goal is to find ways to deny or minimize your car accident claim.
To accomplish their goal, they will often entice you with an inadequate settlement offer only days or weeks after your car accident, or look for any way to deny you money that they know you are entitled to receive.
Having a strong car and truck accident lawyer in New Haven on your side can help. With the help of the legal team at Lynch, Traub, Keefe & Errante, you can fight the insurance company's games.
Through every step of the process, we will provide you with the legal guidance you need to deal with the insurance company, know what to say, who to talk to, and how to protect yourself from losing valuable compensation.
We will also help you find all of the sources of income available to cover the cost of your accident. You didn't cause the accident, so you shouldn't have to pay for it.
With an experienced car accident lawyer on your side from Lynch, Traub, Keefe & Errante, you can focus on recovering from your injuries, while we ensure the best outcome possible for your claim.
Contact Lynch, Traub, Keefe & Errante, P.C
At Lynch, Traub, Keefe & Errante, we have handled many car accident cases, and know how devastating they can be. You deserve compensation for your injuries and losses, and you don't have to pursue this compensation alone.
Call us today at 203-800-7343, toll-free at 888-692-7403, or fill out our online contact form to schedule a free consultation with an experienced New Haven car accident attorney who can help you recover the maximum amount of compensation possible for your case.